I want to share this new amazing software, Character Creator 3.2 by Reallusion with Headshot plugins that is a way of creating a 3D image of one single photo (Front facing face of profile picture as seen in the example) that has a Digital Human Skin Shader. Actually this version of a newly released with plugins this third week of Novermber 2019.
Loading of a single photo that has auto-mode(with hair) or pro-mode(bald hair). In this example pro mode is selected.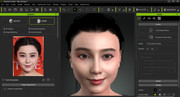 Creating custom expression, moving or tilting of face using facial editor. This software can also control lighning sources whether coming from left or right side, top or bottom.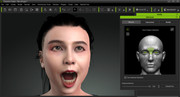 Re-aligning face via morphing based on source photo to further match the 3d face to source photo,